Expedition to Antarctica
Travel to the ends of the earth
December 21, 1996 to January 3, 1997
See and experience Penguins, Sea Lions and Albatross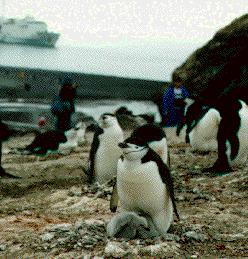 This trip is unbelievably priced and very affordable, with prices starting at just $3,295 per person double occupancy from your gateway city. Most meals included. Taxes not included.

Your expedition style cruise is staffed by a top-notch team of naturalists and scientists.

You will be sailing on a vessel certified for ice with the most sophisticated navigation and stabilization equipment.

You will experience shore excursions via Zodiac Boats.
---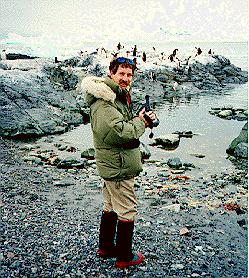 Your itinerary includes: Round-trip airfare to Santiago, Chile, South America, where you will enjoy a traditional Asada Feast. After an overnight stay, you'll be off by air to Ushuaia, the southern-most city in America. There you will tour the Parque Tierra del Fuego. Then it's through the Beagle channel and out to cross Drake's Passage where you will encounter your first glaciers as you cross the Antarctic Ocean. Several shore excursions on Zodiac boats will allow personal interactions with in the penguin rookeries and a look at the wallowing sea lions. Naturalists and other scientists who have spent their whole lives investigating this pristine paradise will accompany you on all shore excursions.
---
Why not join us on this trip of a lifetime. You may want to even add the optional excursion to Easter Island. These trips sell out quickly, and a deposit is required to hold your cabin! We only have 21 spaces available this year.

If your trip is paid for in full by June 21, 1996, you will save 10% off the brochure price.

For further information regarding this trip of a lifetime, you can e-mail us. You may also call or FAX Dave or Judy at (916) 731-5709.


You are visitor:
Since January 30, 1996
---
See Your Trip Itinerary
---

Appreciate the New South Africa!: A unique political, historical, and cultural tour of the New South Africa. Come along on this fascinating trip!



Join us on our " Shakespeare on Stage " trip!
---



Expedition to Antarctica: As of February 17, 1996: All C cabins ($3299) have been sold out. We only have 10 spaces available, all in cabins with private bath, at the rate of $4895 per person. Don't forget about the special 10% discount if paid in full by June 21, 1996, bringing your price down to $4406. Please mail your deposit today to reserve your space on this trip of a lifetime!

If you would like to be put on a mailing list for future trips, please send us an e-mail with your name and address.



If you would like to advertise on the World Wide Web let SimonLink.com develop your presence on the internet! Send us an e-mail!

Better yet, take a look at our web site!